Stronachie
Stronachie, one of the legendary names in the archive of vanished distilleries, lives on with this Highland Single Malt.
Our Recreation of Stronachie
Decades after the Stronachie Distillery closed, we acquired a bottle of original 1904 Stronachie at an auction… one of only four bottles left in existence. A small sample of whisky was drawn from this bottle, tasted and compared to samples from other Highland malt whiskies.
We revived the delicate style, character and flavour of Stronachie by using spirit from Benrinnes Distillery. Like the original, Benrinnes is located in a remote, high altitude wilderness. The new make spirit is matured in ex-bourbon casks before bottling in small batches as 10 year old Stronachie Single Malt.
Stronachie is pronounced Stron-a-key. In Gaelic, the name means 'prominent nose' or 'headland in the valley'.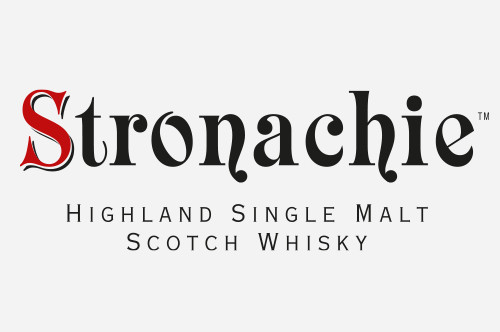 Lost in time, not in spirit...
Stronachie 10 Year Old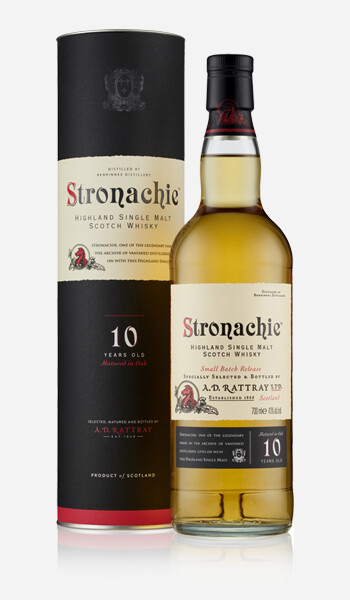 We create our Stronachie 10 Year Old with spirit from Benrinnes Distillery that we fill into bourbon casks and leave to mature for a minimum of 10 years.
A small batch of around 20 matured casks are selected to be brought together and bottled at 43%, creating this perfectly balanced and seductive dram.
700ml / 43% Alc./Vol.
Tasting Notes
Colour

Straw gold.

Nose

Soft honey, earthy heather and malty sweetness.

Palate

Smooth with luscious honey and biscuits, then lingering pepper and cereal notes.

Finish

A perfectly balanced and seductive dram.
The History of Stronachie Distillery
Stronachie distillery was built in the 1890s by Victorian entrepreneurs Alexander & MacDonald, rising out of the wilderness in the Ochil Mountains in Perthshire.
Despite its remote location and the resulting challenges, it survived for nearly 30 years before sadly closing its doors in 1928. During its heyday, A. D. Rattray proudly distributed the brand.
And so we decided to re-create this lost spirit and bring it back to the world...