Bank Note
First made over 150 years ago, Bank Note is an iconic brand that has been re-created today to give you an evocative, premium 5 Year Old Blended Scotch Whisky.
Created in partnership with Pacific Edge, California.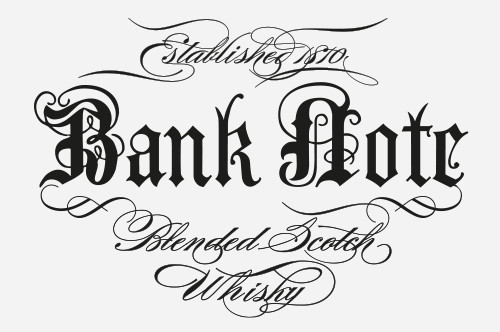 Est. 1810 by James Sword & Co.
Bank Note 5 Year Old Blended Whisky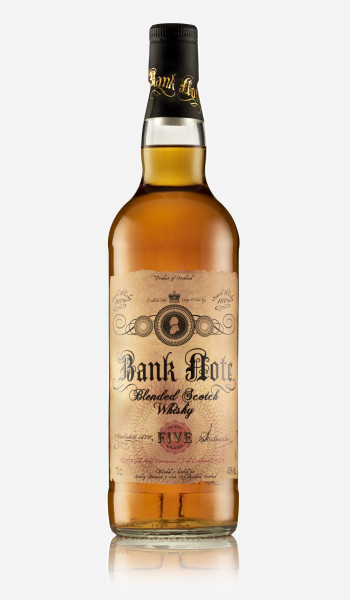 Bank Note is the perfect mix of the finest malt whiskies (40%) from the Speyside and Highland regions, expertly blended with the purest grain whisky (60%) from Lowland Scotland. Maturation in oak casks ensures a mellow taste at 43% ABV with sweet richness and alluring depth of flavour.
700ml / 43% Alc./Vol.
Tasting Notes
Colour

Golden with brilliant clarity.

Nose

Clean, crisp aroma, hints of vanilla.

Palate

Mellow on the taste with sweet richness and depth of flavour.

Finish

Clean on the palate with lingering sweetness.
First created in another era
Bank Note is the only blend we offer at A. D. Rattray. And it's for two reasons. We believe it's exceptional. And it's part of Scotland's whisky heritage.
It comes from a time long ago when George, Edward then Victoria reigned. Great passenger liners set sail from Glasgow. Cargo ships were loaded with whisky barrels on the Clyde, where James Sword & Co was one of the largest companies to bottle and blend. Bank Note was in their portfolio of spirits. The company was admired for its dedication to quality – and so we are proud to make Bank Note available today.