The long awaited Cask Islay Sherry Edition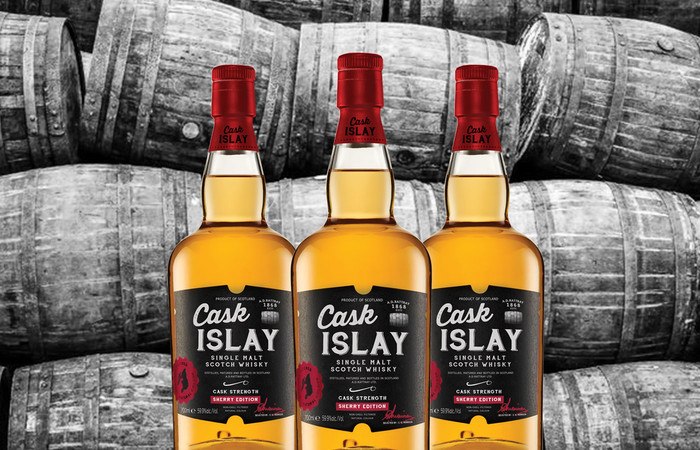 We are excited to announce the release of our Cask Islay Sherry Edition. Our Cask Islay is much loved and we have often been asked for an edition matured exclusively in Sherry and also bottled at Cask Strength, so… here it is!
The plans to create this limited edition began in 2010 when Nick and Frances visited Spain to source two types of sherry hogsheads.
First stop was to La Gitana Bodegas – at the time we were only the second whisky company to source casks from this Bodegas in Jerez.
They selected casks that had previously held Rioja red wine before being seasoned with Oloroso Faraon for around 2 years. During the seasoning period they were located at the El Cuadrado vineyards, a vineyard that has been owned by La Gitana for over 150 years.
It is one of the top 3 vineyards in the Sherry area, located in the historic district Balbaina Alta, and it is the highest point on the Sherry Area. This is one of the reasons why their wines are slightly salty and very fine.
Next stop was to the Toneleria Juan Pino cooperage in Cordoba where they selected hogsheads that had had Oloroso sherry in them for over 20 years.
These two types of specially selected casks were then transported to Islay to eventually be filled with new make spirit distilled on 5th February 2014 and then laid to rest to let the magic happen.
After years of careful monitoring, 20 casks were selected for this batch, combining both types of sherry casks to create this long-awaited special edition of our Cask Islay.
The intense Islay style has been enhanced by the Oloroso sherry hogsheads from Tonelería Juan Pino, contributing bold, dried fruit notes to the spirit. Working in tandem, the Oloroso sherry-seasoned wine casks from La Gitana complement the lighter notes of the spirit, by lending a more subtle, stone fruit character.
We then bottled at Cask Strength to preserve the rich, full-bodied mouthfeel and intense, rounded flavours.
Please click here for more information on Cask Islay including where you can buy a bottle...