Private Label
Our Private Label whiskies are a range of single cask whiskies that are available for custom labelling.
We select single casks from our maturing stocks and bottle them at either cask strength or a reduced strength of 40% or 46% abv, and always without adding colour. As is the nature of Single Cask whiskies, the bottles produced from one cask are limited, adding exclusivity to your whisky.
The ever changing selection of whiskies available within our Private Label range offer a choice of flavours and styles, each with their own unique characteristics and from distilleries across Scotland.
You have the option to use our own Private Label style, which includes your chosen text and logo, or to provide your own label design. In most cases the distillery name, whisky age, cask type and number can be included on the label, adding gravitas and interest.
With a minimum order of only 12 bottles, our Private Label range provides the ideal opportunity for you to have your very own branded whisky.
Fettercairn 2009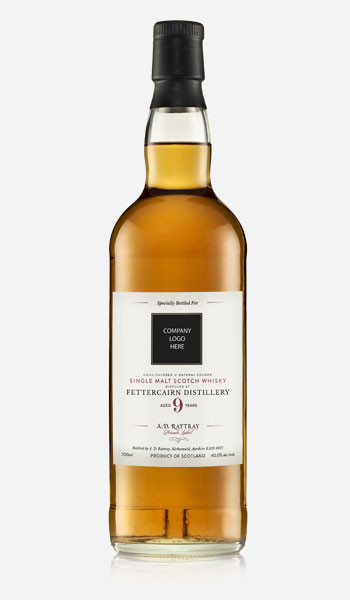 This 9 year old from Fettercairn was matured in a single bourbon cask #1094.
700ml / 40% alc./vol.
Tasting Notes
Colour

Plush amber.

Nose

Banoffee pie, vanilla and tart bramble sauce.

Palate

Cider apples, blood orange and green tea.

Finish

Lip-smacking umami notes of soy and savoury biscuits.
Macduff 2009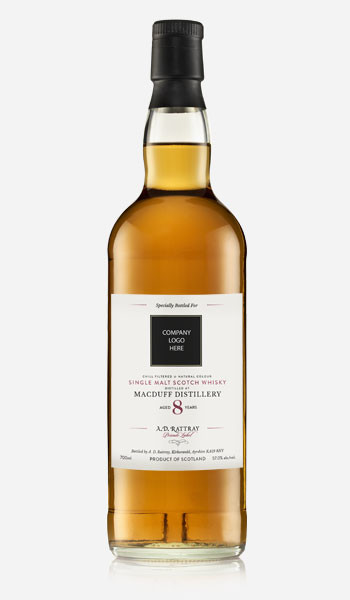 This 8 year old from Macduff was matured in a single bourbon cask #701264.
700ml / 57% alc./vol.
Tasting Notes
Colour

Rich gold

Nose

Creamy vanilla pastries.

Palate

Melted butter, ground almonds and a touch of cinnamon.

Finish

Fresh from the bakery; warm, creamy and smooth.
How to Order
To discuss your requirements, please call us on 01655 760242 or click here to Contact Us.